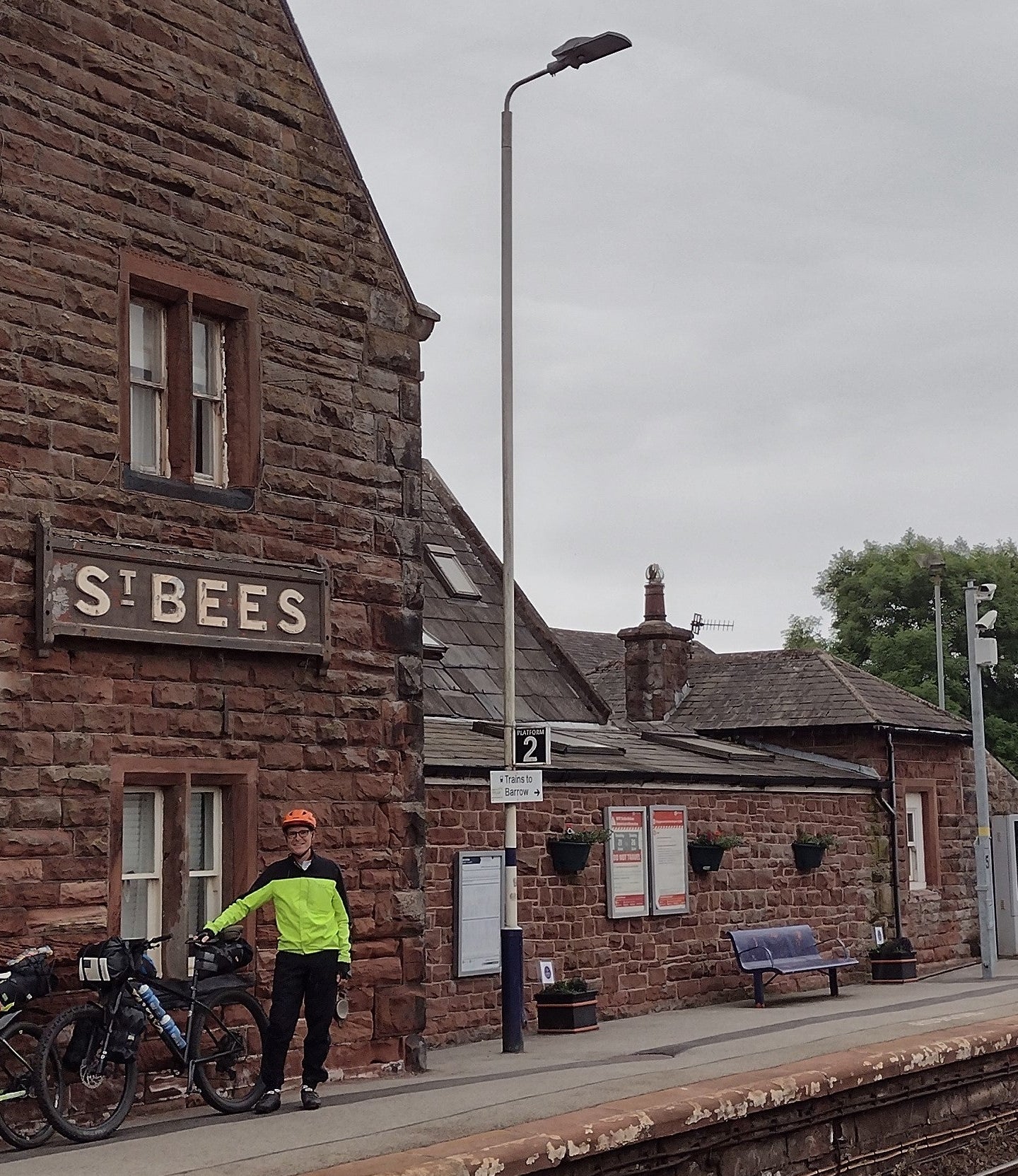 Wheelwright Coast to Coast
This is a Daring Deed from one of our customers, Graham. He took on the esoteric Wheelwright Coast to Coast from the 17th to the 23rd of June 2022.
In June 2022, my friend Lewis had just qualified to receive his state pension. We thought of a challenge that would be a suitable celebration; the esoteric 'Wheelwright Coast to Coast". It's from St Bees Head, on the Irish Sea coast to Robin Hoods Bay, on the North Sea coast, taking in the most remote and challenging off-road terrain possible, traversing the Lake District, the Yorkshire Dales and North Yorkshire Moors. I had done it in four very long days using youth hostels around 15 years earlier but to add some extra spice, and to make use of the new lightweight Alpkit gear that was now available, we decided to carry our camping kit and go self-supported.
Anyway, leaving Newcastle on a wet Friday morning, we found ourselves on the platform at St Bees station around lunchtime, just as the heavens opened. We donned wet weather gear then cycled further west to a grey and dreich stony beach at the west coast, before commencing our ride east.
Initially, easy inclines along disused railway tracks brought us to Ennerdale Water, gateway to the Lakeland mountains. The rain was getting stronger, and we were wet through on arrival at Black Sail Youth Hostel. We took stock and passed the time with several parties sheltering from the rain, until we could wait no longer.
Black Sail Pass presented a daunting prospect, but we really needed to get past it on day one. We pushed bikes until it became so steep and rocky that we had to shoulder them. We both struggled and Lewis made the call to remove his bike packing bags and carry them first, then return for his bike in a series of relays. I stubbornly continued, wondering whether this effort would ruin us before we had really started. I returned to help Lewis with his bike and we eventually reached the top in a state of exhaustion.
The rough track down into Wasdale was equally steep and too dangerous to ride, so a hairy descent holding onto runaway bikes ensued, while a mountain rescue helicopter circled overhead, (searching for fallen/injured walkers, we learned later).
With relief we reached the valley and camped in a field near the Wasdale Head Hotel, just catching last orders and getting a decent bar meal which had a miraculous effect. We had taken nearly 9 hours to ride, push and carry our bikes 27 miles with 2,775 feet of climbing. The rain had finally stopped and unbeknown to us at the time, the next week would be bathed in glorious sunshine.
On day two, the sun shone as we packed up camp and we then crossed three more tough tracks over passes across the southern Lake District into Eskdale, Duddondale and Coniston, covering only 20 miles and 3,450 feet in 9+ hours of tiring effort.
The push up Walna Scar road was really tough but was compensated by the most spectacular descent down into Coniston. I was very thankful for modern slack bike geometry and big 2.6" 29er wheels, feeling only just in control. We made a bad call to stay at the large camping site on the west bank of Coniston water and were staggered at the thousands of people staying there. Still, it proved to be the location of my only shower on the whole journey.
Our third day of crossing the Cumbrian Mountains involved six passes over wild moorland between verdant valleys. The days were beginning to form a pattern involving brutal sections of bike pushing followed by some incredible and barely in control descents.
We left behind the honey pots of Langdale, Rydal and Ambleside and continued east into the unfrequented Kentmere and Longsleddale valleys. We both got punctures within half an hour of each other, and both resealed without needing to do anything other than pump some more air in, which was a relief as we were being accosted by a group of hungry wild horses at the time, that seemed rather too interested in us.
After nearly 5,000 feet over 27 miles and no sign of somewhere to camp we stumbled across Mosedale Cottage, a remote mountain bothy, empty and unlocked – what a result! As the sun set at 10pm we filtered stream water, made some tea, and wearing all our clothes against the cold, fell asleep in luxury on wooden platforms in a room each.
I'd set up my little solar charger on the east facing window of my room and was amazed that by the time I woke up, my phone was fully charged. We pushed, then raced our bikes downhill out of the Lakes and were lucky enough to join the local OAP's in Shap village hall for their weekly community lunch, under Union Jacks left over from the recent Jubilee gathering. We were warmly welcomed despite our condition and ate and drank well.
Shortly after leaving Shap, we crossed the six lanes of the M6 and entered the quiet moorland pastures of the upper Eden Valley. Kirby Stephen offered an opportunity to take on some significant calories in the form of pies and cakes, before we headed across a really tough, frustrating section of trackless moors and bogs crossing the main watershed of Britain near the Tan Hill Inn. A fast, exhilarating single-track descent into Swaledale followed, with perfect early evening light. At Gunnerside wild camped next to the River Swale amidst swarms of midges. We had cycled 45 miles with 4,100 feet of ascent over 11 hours and were both completely exhausted.
The next morning, after a wash in the river, we headed steeply up an un-rideable track of boulders and loose gravel onto the high moor overlooking Wensleydale, before a fast, only just-in-control descent back into Swaledale and a double full breakfast each, washed down with strong coffee at the cycle café in Grinton.
After a pub and shop stop at Richmond, we road-raced across the Vale of York, unused to traffic and relieved to reach Osmotherley on the edge of the North York Moors in time for a pint of Guinness and then a wild-camp on a perfect spot just by the river. We had covered 48 miles over 3,825 feet in 11 hours.
Day six dawned fine again, and a big day beckoned across the moors. We spent the day dropping into and pushing out of multiple north-facing dales eroded into the moors, achieving another 32 miles and 3,350 feet over 10 hours of hard toil before finally reaching Glaisdale with pub-grub and beers. The landlord of the Arncliffe Arms kindly offered us a slim, sloping strip of grass immediately outside the pub to pitch our tents; not exactly wild camping but we were very happy to accept.
At the start of day seven, we reached the village of Grosmont, and watched tourist-filled steam trains arriving in a flash-back to 'Heartbeat'. A massive haul up onto Sleights Moor and deeply rutted off-road tracks across Fylingdales Moor brought us a first sight of the North Sea, oh joy, then we raced along the disused railway track down into Robin Hoods Bay for a swim in the sea – we had made it! A celebratory beer then fish & chips completed our seven day, 224 miles, 24,175 feet epic.
The distances don't sound huge, but we both experienced previously unknown depths of deprivation and exhaustion and felt like we had had a real experience. It felt rather odd to be re-joining the normal world again.