Plan your Big Shakeout
Get close to nature, learn something new and step out of your comfort zone. Our packed schedule of courses and activities has something for every festival goer to find their own challenge.
Get your Big Shakeout entry ticket - Hurry... last few!
Everyone needs a ticket to come to Big Shakeout. In order to park on site you'll also need to buy a car or campervan parking pass.
Your Big Shakeout ticket gets you...
- Individual, family or friends weekend entry
- 2 nights camping at Thornbridge Outdoors
- Free festival T-shirt
- Adventure films, inspirational talks an lectures
- Heaps of on-site activities
Alternative accomodation
Your ticket to Big Shakeout includes camping for the weekend. If you'd like to dial up the comfort for your stay there are a number of alternative on-site accommodation options.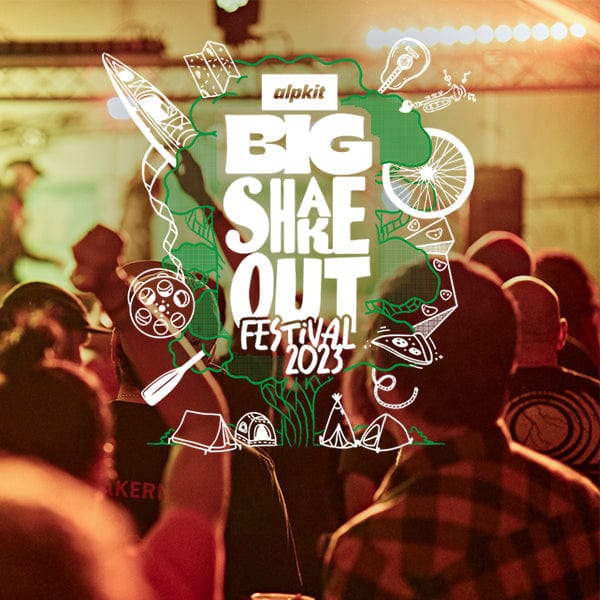 Watch this years's trailer
Prepare for the best outdoor event of the year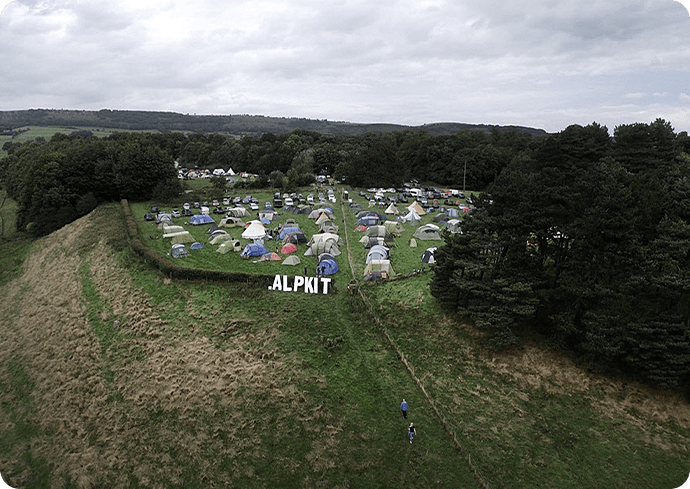 Location: Thornbridge Outdoors
Our Big Shakeout base camp in the Peak District. Known for its world class rock climbing. Mountain biking. Caves. And endless walking trails. All within a 20 minute radius.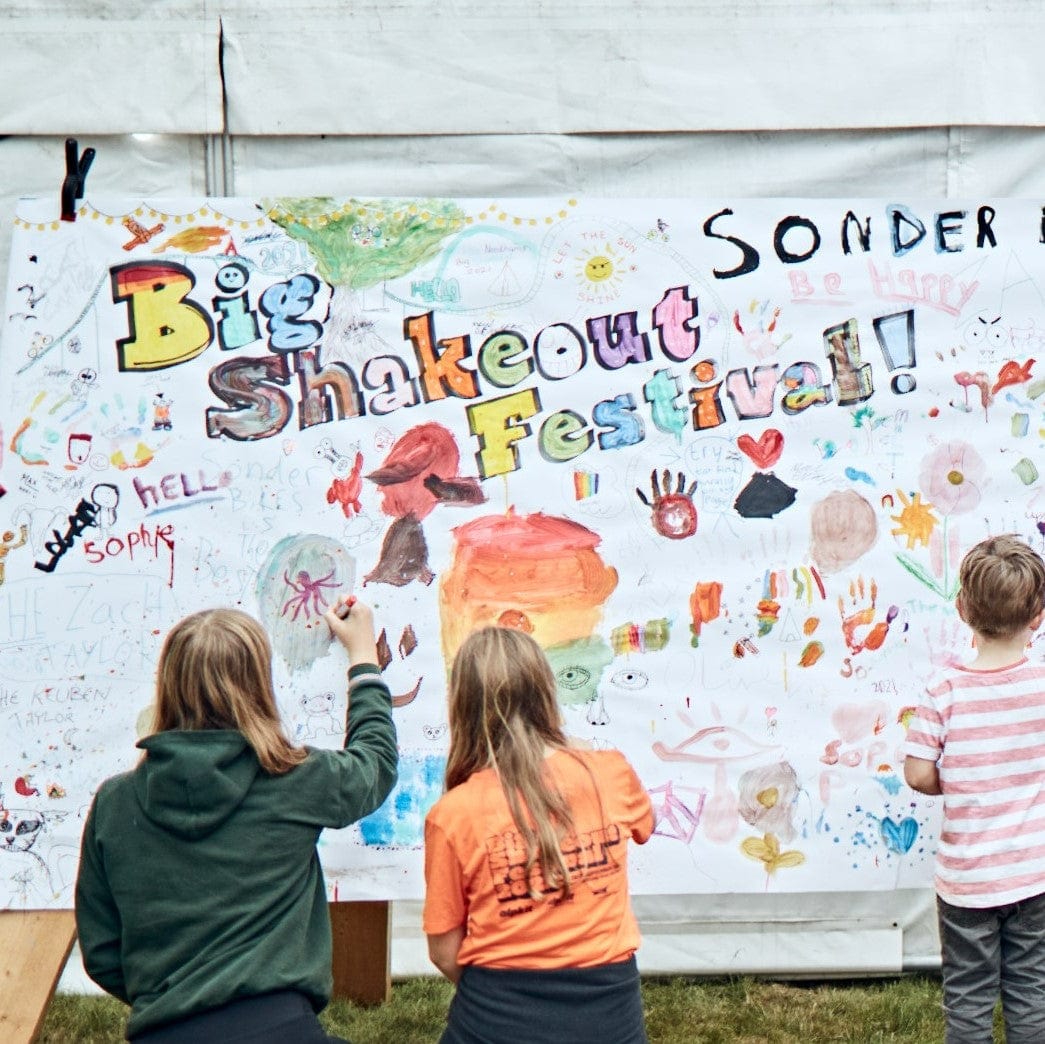 Big love for Big Shakeout
"With loads going on for families and adventurers of all ages, The Big Shakeout is a great weekend. Don't forget to allow a bit of time to soak up the vibe and chill out with like-minded folk, as well as making the most of all the great activities and new skills you can learn... A lovely event."

- Rob Slade, Wired for Adventure
"We absolutely love living in the Peak District with all the outdoor adventures and stunning family walks on our doorstep... But for those families who live in towns and cities who want to cram as much outdoor adventure into a weekend as possible, Alpkit's Big Shakeout Festival is a must."

- The TraveLynn Family
Frequently asked questions
Where is the Big Shakeout?
Can I bring my pets?
Sorry no. Pets are not allowed on site.
Can I book on an AKF School of Adventure activity without a weekend pass?
No. You must have a valid Big Shakeout weekend ticket to participate in any School of Adventure Activities. Any orders for activities without a Big Shakeout weekend ticket will be cancelled and refunded.
Will School of Adventure activities still go on if the weather is bad?
We will do everything we can to make sure your chosen activity goes ahead, however in some circumstances a course may have to be cancelled due to weather or lack of numbers. In these cases we will either offer you a place on an alternative activity or refund.
When will I receive my tickets?
You will receive an email confirmation with an order reference number upon completing your order. Your order number is your unique reference number, bring it along with you and present it at registration.You will need your order reference number to register on arrival.
What disabled facilities are there?
There are no dedicated disabled weekend activity tickets, however some activities may be suitable with additional instruction. Please contact us with your requirements to see how we can tailor the experiences accordingly.
Is there any parking, and what if I am in a camper van?
Tickets will be available for on-site parking. If you are in a campervan, please buy a campervan ticket for the Big Shakeout festival, there will be a designated campervan space available for you. If the ground is unsuitable due to conditions, parking will be along the public road.
Can I make a group booking?
We do not reserve tickets for group bookings. Everyone in your group needs to register and purchase tickets in the same way as anybody else buying tickets.
What about under 18s?
Under 18 year-olds must be accompanied by a ticket-holding adult. Proof of age / photo ID may be required for entry.
What about refunds/cancellations/exchanges?
We cannot give refunds unless the event is cancelled or substantially altered. Tickets cannot be transferred to another name.
Can I get a day ticket?
This is a weekend event - no day or evening tickets are available for purchase.
Site Rules
No animals on-site except for registered guide dogs.
No fires, including Chinese lanterns, flying lanterns, flares, and fireworks.
BBQs must be raised from the ground and used outside your tent.
Noise must be kept to a minimum after 10pm in family and quiet areas.
Use toilets and urinals provided, do not pollute the waterways or hedges
All litter must be put in litter and recycling points provided.
Do not bring prohibited items onto the site.
To protect our guests safety, please act responsibly at all times.
As of 2007, smoking is not permitted in enclosed public spaces or buildings. Alpkit will provide a designated smoking area at the event.
Prohibited items include, but are not restricted to:
Glass bottles, naked flames, drugs/illegal substances, guns, crossbows, generators, fireworks, chinese/flying lanterns, flares
Terms and Conditions
The artist and performer line-up and all billed attractions are subject to change at any time without notice.
Alpkit and Thornbridge Outdoors reserve the right to refuse admission in any circumstances to ensure the security, safety and comfort of all guests.
Alpkit and Thornbridge Outdoors may refuse entry to ticket holders who attempt to enter the site with prohibited items.
Activities at the Big Shakeout may be photographed and/or filmed over the course of the weekend to be used for marketing by Alpkit and Thornbridge Outdoors. By participating, you consent to the publication of this material with no compensation for such use.
Admission is at the ticket holder's own risk. Alpkit and Thornbridge Outdoors will not be held liable for any loss, injuries or damages sustained at the event, including damage, theft or losses to property and motor vehicles, if the cause is due to the negligence of the Ticket Holder or the actions of other patrons or third parties.
Any items which the organisers consider may be used in an illegal or offensive manner shall be confiscated. Persons suspected of carrying out illegal and/or offensive activities on site may face eviction from the site.
Alpkit Ltd does not offer refunds in the event of lost or stolen tickets.