That's right, we've arrived at Ilkley and we're so pleased to be here! Come and say hi!
Alex, Ilkley Store Manager
Opening Times
Monday

09:30-17:30

Tuesday

10:30 - 17:30

Wednesday

09:30 - 17:30

Thursday

09:30 - 17:30

Friday

09:30 - 17:30

Saturday

09:30 - 18:00

Sunday

09:30 - 17:30
We're cram packed full of Alpkit gear goodness!
Think of us as your West Yorkshire base camp, a really well-equipped gear store with the entire Alpkit product range inside. We've got wetsuits to try on, bikepacking luggage to fit for size and sleeping bags packed up to show their pack sizes. You can hire a bouldering mat, demo a bike, or book your tired and weary kit in for repair. Or you can just come in and hang out when you're soggy and tired after a full day running, biking or hiking!
Services available at Ilkley Outdoor Store | Alpkit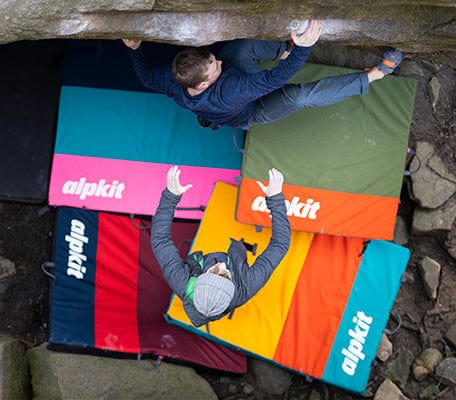 Bouldering Mat Hire - £10 a day
Got a highball in mind and need an extra mat or just haven't got enough space in the car? Call the store and arrange to hire a mat for £10 / day and enjoy the best of Yorkshire bouldering.

Continuum Project
Give your retired gear a second life by donating it to our Continuum project to be adopted by someone who really needs it.

Tent Display Room
Discover our finest indoor campsite. Try out our tents: put them up, pack them away, take a nap...