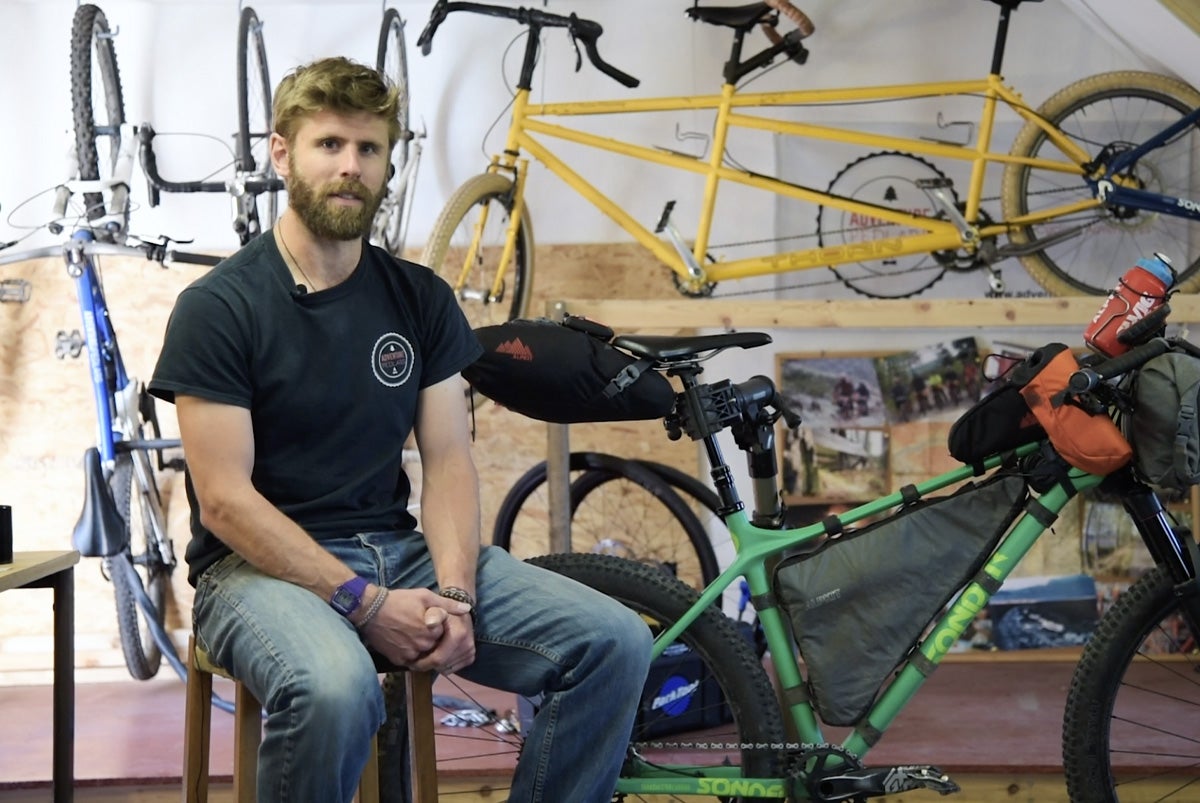 Long Distance Bikepacking: Highland Trail 550 Packing List
The Highland Trail is a 560 mile, long-distance, self-supported mountain bike time-trial route through the Scottish Highlands. It's a tough and gruelling endurance event that takes a special 'type 2 fun' enthusiast to get through it.
Do you have what it takes to take on a long distance, week long bikepacking adventure like the HT550?... No?... Maybe we can help.
Multi day adventures can be incredibly satisfying, and a great way to get off the beaten track. The Highland Trail 550 is a great example of this, it can be completed as a time trial during a mass start over the May bank holiday, or simply head up whenever you manage to get some time off work!
Generally speaking, people finish thetime trial in 4-8 days, covering 100+ miles of rough terrain perday,with little to no sleep (planning is key).
It's a tough challenge, but when you're riding for daysin the Scottish Highlands, it's easy to see why people return year on year.
In a Nutshell, Pete Tells us What he Packs
With the likes of the HT550, Silk Road Mountain Race and Transcontinental becoming morepopular, we wanted to know what it takes to take partthese multi daychallenges as well as heading out on our own long distance trips.
We asked Adventure Pedlar, Alpkiteer and HT550 Veteran Pete McNeil about the route, and what he packs.
With this long distance bikepacking kit list, you'll get an in depth insight into what to pack for the HT550, and get an idea of where to start for even longer adventures.
- In the video, Pete covers:
The Highland Trail 550: What to Expect

HT550 Route Details

HT550 Terrain Details

Bike Check – Choose a Bike That'sRight for You

Bike Luggage and the Kit it Carries

Handlebar Bags for Emergency Gear and Sleep System

Cockpit Bags for Snacks, Energy Gels and Electricals

Frame Bag for Heavier Items:Tools and Cooking Equipment

Saddle Bag for Warm, Dry Clothes and Spare Socks

A Bumbag (or Small Hydration Pack) for Water and Waterproofs

Figure Out Your Own Process for Packing
The Highland Trail 550: What to Expect
The HTT550 is a committing ride. There's no entry fee, no prize money, simple rules and definitely no support - you're on your own for the duration.
Okay, so not completely on your own! You do get a suggested start time, a GPS track file,a list of completion times and the route takes you through a few towns at which you can refuel andresupply.
For a lucky 40, there's company in the mass start on the last bank holiday in May, but you can ride it any time you want as an ITT (individual time trial). And 'unsupported' means there's no-one there to rescue you should it all go wrong.
- HT550 Route Details
Learn the route. Plan your ride to take enough supplies per section, and knowwhere toresupply.
Starting at Tyndrum the route heads North, traversingBen Alder to reach the crucial pizza collection point at Fort Augustus.
Northwards still you'll pass the stores in Contin, the last resupply before venturing off into the remote northern loop round Assynt.
From here the journey takes riders South towardssome incredible Scotch pies at Lochinver Larder (closes at 9pm, plan wisely). Then it's down to the Oykel Hotel and on to Ullapool before the wild and remote Fisherfield crossing.
The next resupply point is at the Whistle Stop café, or the village shop in Kinlochewe. A good feed here will prepare you for one of the most technical sections of the route:Achnashellach, Torridon.
On through Dornie, a quick stop at the café or shop and into Glen Affric before visiting Fort Augustus for the second time (and getting a second pizza – why not ey?).
A fast blast down the Great Glen way, into the relative civilisation and bright lights of Fort William. Finally, riders push on south to Kinlochleven and over the Devil's Staircase for the last dash to the finish.
- HT550 Terrain Details
Weather can drastically alter the terrain, and kit you take. Check what the weather is doing in the weeks before, not just the 'on the day' forecast.
May bank holiday in Scotland: there's a chance of midge-free riding, but weather really is unpredictable.Riders have to prepare for rain, snow, sunshine, and anything else the elements can throw at them.
Technical descents, long hike-a-bikes, deep bogs, river crossings and minimal resupply points mean that any attempt must be carefully considered and kit packed according to possible conditions and intended time frames.
The HT550 is the kind of ride that will quickly highlight the strengths and weaknesses in your systems and preparation.
Bike Check – Choose What's Right for You
Folks ride the Highland Trail on all kinds of different bikes. You see drop barred 'adventure bikes', all the way through to full suspension trail bikes. It all comes down to your style of riding, how comfortable you want to be and which sections you want to make the time up on.
Pete opted for a Sonder Transmitter Carbon last year, favouring the lightweight frame and plus sized rear tyre for added grip and a bit of extra comfort. If you're aiming to go as light as possible, choosing carbon over aluminium Transmitter frame saves around 600g. Because Pete comes from a background of mountain biking on UK trails, the more aggressive geometryon the Transmitter Carbon suited his ability to make up time on the technical sections and rugged terrain. A dropper seatpost also made for quicker and more controlled descents.
It all comes down to your personal style of riding, Tom and Rich Seipp have ridden the HT550 several times on Sonder Frontiers, and Stu Taylor went for a Sonder Broken Road, so just choose a bike that's right for you and the ground you're taking it on.
Bike Luggage and the Kit it Carries
Getting the right bikepacking set-up for any bikepacking tripscan make or break your experience.
Pete's an experienced endurance racer, with a minimalist setup that he's fine tuned over the years to balancea fast and light approach with enough comfort to enjoy the ride.
Be honest with yourself. How long is it likely to take you? How comfortable do you want to be? Then pack accordingly.
- Handlebar Bags for Emergency Gear and Sleep System
Pete chose the Tivaro 13l dual ended handlebar bag from the Rando Range. It's tough and waterproof, which are two crucial elementswhen you're on a self-supported bikepacking adventure in the Scottish Highlands.
Pete uses a large Roo Pouch on top for added storage.
In theRoo Pouch - Maps and emergency kit:
(approx 0.5kg)
Route overview map

First aid kit for bumps and scrapes

Gamma Headtorch

Mosquito repellent (pesky midges!)

Back-up maps (in case the GPS fails)
In the Tivaro -Sleeping kit:
(approx. 2.5kg)
- Cockpit Bags for Snacks, Energy Gels and Camera Kit
The cockpit is all about accessibility. Things you'll need to keep you going without having to stop.
You're not going to be eating 3 square meals a day on a fast paced bikepacking adventure, so high colorific snacks (like a fruit and nut mix) to get you through the day are a must.
Pete's advice for food - don't overpack!
"The reality of covering bigger distances is that you're more likely to come across shops and places where you can buy stuff… Take less and replenish."
Pete uses a Stem Cell and Fuel Pod 22 to pack:
(approx. 1.5kg)
Sonder Confucius handlebars

GPS device (attached by a Love Mud Trace)

Hadron bike light (with battery pack in the frame bag)

Swig 500ml water bottle for rehydration tablets(whilst a seperate bladder carries fresh water)

High calorie snacks

Energy gels

Electricals (phone, camera, ipod etc - charged via a dynamo hub)
- Frame Bag for Heavier Items:Tools and Cooking Equipment
Using a custom built Stingray from tough VX21 fabric, Pete leaves space for a spare inner tube taped in at the top of the down tube.
With a horizontal divider in the Stingray, Pete separates heavier kit, with bike spares and tools in the bottom half, and his cooking system up top.
Here's what Pete packs in his Stingray Frame Bag:
(approx. 2.8kg)
A Leatherman style multitool with plyers and a knife

A pump (like the Love Mud Pffft) wrapped in gaffa tape (because there's nothing you can't fix with a bit of gaffa tape)

A multitool for bike repairs (like the Trailside 16)

Bike spares - inner tube, brake pads, tyre boots, rubber bands, jubilee clips, spokes and lube

Patch kit for the Numo sleeping mat

Boson bike light (adapted for Pete's helmet)

Zip ties

Bulky food like dehydrated meals (one per day you're expecting to be riding, and/or plan resupply points)

100g gas canister

A selection of tea bags, coffee and rehydration tablets

Midge head-net (always a must!)

Lampray (provides light and power for the phone and iPod)
- Saddle Bag for Warm, Dry Clothes and Spare Socks
Using the Exo-Rail means Pete could use a Koala 7l seat pack whilst still making full use of the dropper post over technical sections.
Plus, reducing sway means the Exo-Rail makes for a more comfortable ride.
Here's what Pete packs in his saddle bag:
(approx. 2kg)
- A Bumbag (or Small Hydration Pack) for Water and Waterproofs
Let your bike do the work. The best option is to not wear a bumbag or rucksack at all.
Pete uses a bumbag to hold a 2l water bladder and waterproof jacket. Anything you're carrying on your body is more likely to slow you down, so keep it light.
If a bumbag doesn't suit you, something like the Artlu 10l hydration vest works for long days in the saddle. It's minimal and lightweight with a hydration port, and easily accessible.
Here's what Pete pack's in his bumbag:
(approx. 2.8kg with a full bladder)
Figure Out Your Own Process for Packing
"Everyone's got their different way of doing things, and for me it's kind of a dynamic process. I'm going to be keeping an eye on the weather forecast right up until the point I get in my van to drive up there.
I know there'll be people that go with a lighter weight setup and I know there'll be people that go with more kit and a heavier setup. Really, for me, it's all about trying to find that balance. Ultimately, the thing which I love about the Highland Trail is that it's proper hard, technical mountain bike riding in places, so for me as a mountain biker, I want to enjoy that riding. I want it to bring a smile to my face, so I'll take any kit I can go with that helps me enjoy the trail, rather than seeing it as some kind of brutal self-punishment. I hopefully will go and just enjoy riding in Scotland for a few days…" - Pete McNeil, 2018
Our Top 5 Tips for Long Distance Bikepacking
Learn the route - knowing when and where to resupply can help minimise the food you pack.
Plan your sleep - know where you're stopping and for how long to help minimise your sleep system.
Use a dynamo hub - keep your GPS gong for route info and your phone charged for emergencies.
Pack smart snacks - don't overpack, take high calorie snacks like nuts and resupply.
Let the bike do the heavy lifting - carry as little as you can on your back.