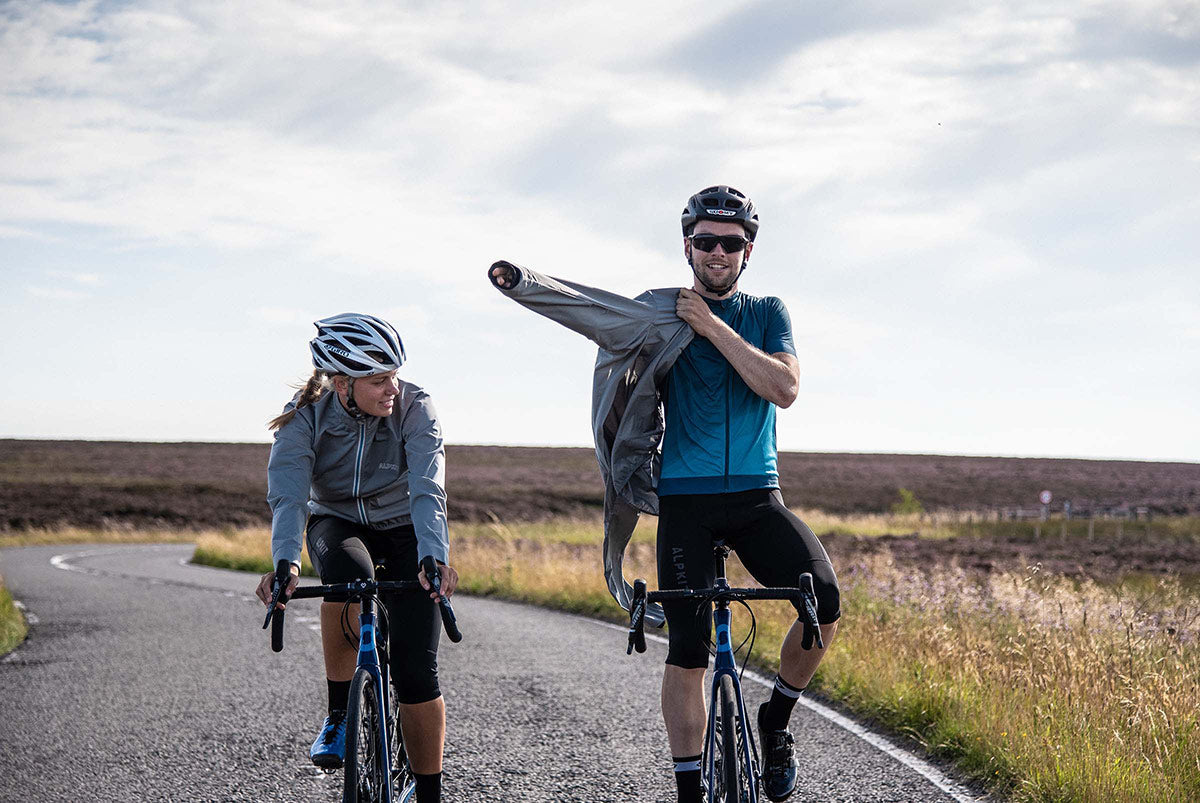 The Squalline waterproof jacket story
When it comes to certain products, you could almost describe the development as straightforward. That is, you have specific boxes to tick: a price to meet; features to include; a fabric to use and (all going well) the product turns out just as you expect it to.
In other cases, the product morphs and evolves: you chop and change tact and end up with something you hadn't anticipated. Squalline was one of those products, so its development story took a fair few plot twists.
In part this came down to the brief. Of course, we had an end-use in mind… Think typical UK unsettled weather – sometimes damp, sometimes windy, sometimes neither then all of a sudden there are showers! Squalline would fit the bill for those circumstances: a quiet and comfortable weather resistant jacket for running and riding, the kind of jacket that Kenny would wear for anything from the Tuscany Trail to the Welsh Ride Thing to the commute to AKHQ…
So although the jacket's purpose was clear, the boxes we had to tick to get to the end-product were a little more hazy. This meant that the Squalline would involve a lot more experimentation than our other products, stage 1 was to find the fabric and work out how the jacket would fit: let the prototyping begin!
The Prototype Chronicles: Fabric and Fit
Of course we weren't shooting blind, we had the following criteria for our fabric:
More comfy, stretchy, and waterproof than the Arro,

Quieter than the Gravitas but not quite so waterproof,

Stretchy like the Pulsar,
But this was easier said than sourced…
Prototype 1
A bin bag! This one was modelled on our Arro windshell, with a completely new fabric. This new fabric felt like a bin bag (not so comfortable), although Kenny seemed to like it because we never got it back.
Prototype 2
Less of a bin bag (success!), but maybe a little too akin to a race cap. We used a 2 layer fabric with no outer face, Marketing Man Dan got very wet at the Ard Moors Enduro.
Prototype 3
Hurrah! We nailed the fabric - soft and stretchy to let us make a trim-fitting yet unrestrictive jacket; seams left untaped for a lighter and comfier feel against the skin.
However, we hadn't quite gotten away from the drawing board yet – there was still the jacket's fit to sort…
Prototype 4
The fit was getting to where we wanted it, finally we had a shape and feel that we were happy with!
Once we had these fundamentals down, it was time for the fun bit – features! Oh wait...
Difficult Decisions: Features
Squalline's simple yet versatile feature-set is a testament to the expression 'less is more'. But simple yet versatile is not necessarily simple to define, because we all love features! Plus, with the Squalline we had the added challenge of finding a balance between a running and riding feature set that doesn't take the Squalline too far in either direction, all the while leaving scope for other activities too. We found ourselves being ruthless, making the distinction between features we wanted and needed to include. This left us with the following…
A stuffable pocket which makes it easy to stash away even when travelling light
Rear covered mesh vents forbreathability without sacrificing protection