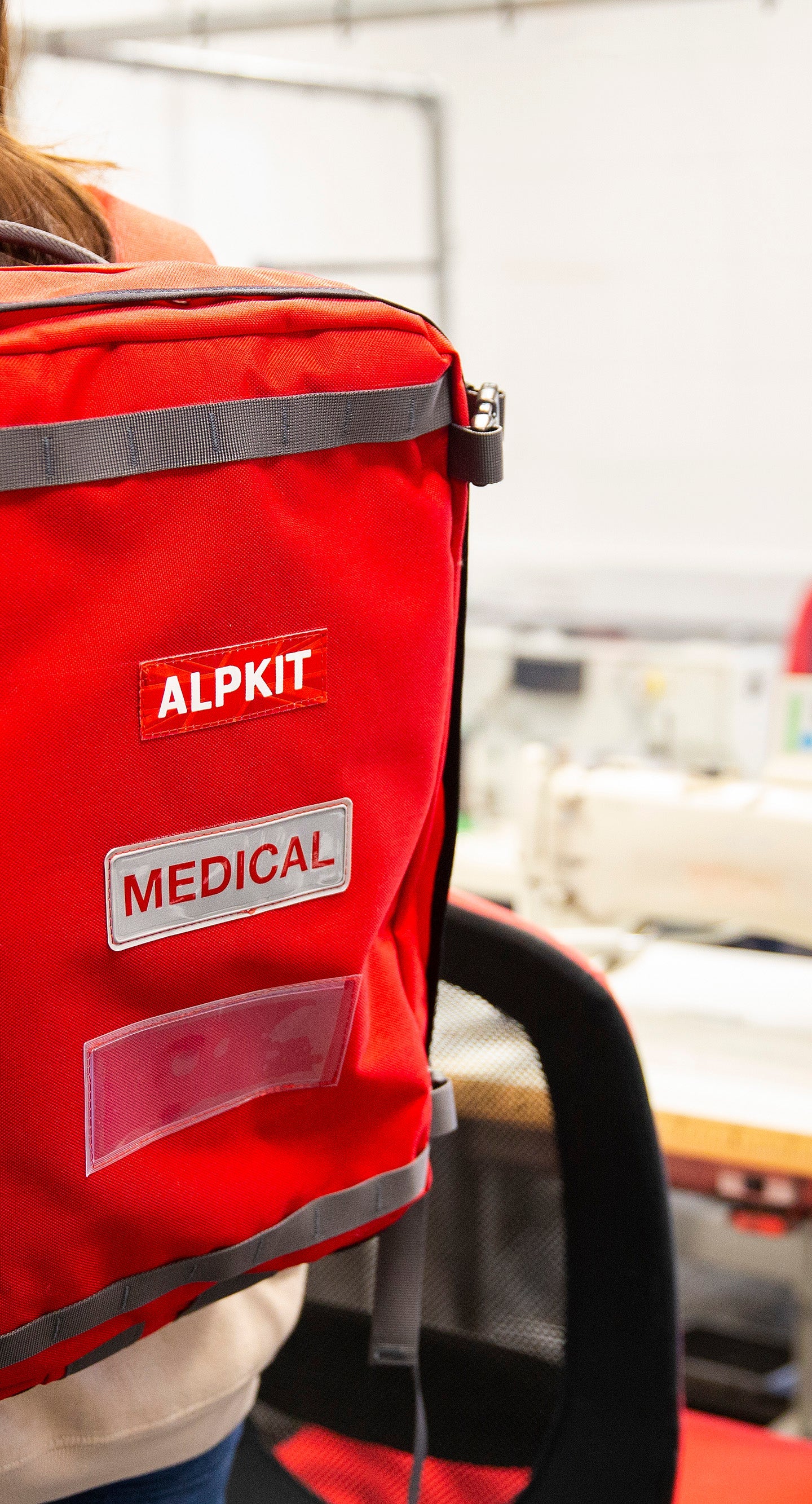 Custom Rucksacks For Ogwen Valley Mountain Rescue
After several years of designing, honing and tweaking, we're very pleased to be handing over 10 custom made rucksacks to Ogwen Valley Mountain Rescue Organisation (Sefydliad Achub Mynydd Dyffryn Ogwen) to carry their medical kits in.
Sally Armond, a paramedic member from Ogwen MRT, got in contact with us a few years ago with a unique proposition. Sally had been streamlining the medical kit the team carry, including the various bags and pouches that everything is carried in. Whilst investigating alternatives, she realised that most bags on the market were either "designed for urban use (bulky and heavy) or for military use (rugged but heavier than needs be for our needs and extremely expensive.)" Having seen several members of the team using Alpkit products, she got in touch to see if we could make them some custom "bags for mountain and wilderness rescue purposes."
Work commenced in our Nottinghamshire factory on the very first designs. The brief was for a functional and hardwearing backpack with removable pouches for different medical equipment. It needed to be quick and easy to access everything inside, both when hanging up or laid flat out on the floor. Once the first prototypes were finished, they were sent back to Sally for thorough testing and feedback. The basic rucksack shape and design was decided fairly early on. Alpkit Factory Supervisor Lily explains the design:
"We created 7 pouches that are held in the backpack with velcro so they can be removed and put back in easily and quickly. They also have clear lid so the team can see exactly what's inside, and so that they can insert different labels to say what's in each pouch."
After some extensive prototype testing and refinement — fine-tuning the shoulder straps, zips and how the pockets open — the final backpack design was finished. It was important for Ogwen Valley MRO to thoroughly test each prototype to ensure that the packs would function exactly as required in an emergency situation. Lily explains what makes the bag designs special:
"The bags can be fully zipped open and laid completely flat on the floor or hung up using the handle. This makes it really easy to see what's in the bag and find what you need immediately — this was essential for when the Team are out helping people on a call-out. The bag has side compression straps, which can hold oxygen canisters. The bottom ones can be secured the other way round creating a waist belt — useful if the bag is particularly heavy or if members of the team need a bit of extra support."
We've always been big supporters of our Mountain Rescue organisations and feel very privileged to be working with one of the busiest teams in the country on such an important project. It's great to know that packs made in our own little factory will soon be heading out into the Snowdonian hills to help people in need of assistance.
Mountain Rescue teams consist entirely of volunteers, giving up their free time to keep us safe in the outdoors — 24 hours a day, 365 days a year. These teams can only function through fundraising and donations, so please do help support your local organisation and take every precaution to stay safe in upland areas.
Support Ogwen Valley Mountain Rescue Organisation (Sefydliad Achub Mynydd Dyffryn Ogwen)
Support Mountain Rescue England and Wales