Having qualified as a Doctor in the Scottish Highlands, I am taking a career break to focus on climbing. I absolutely love being in the mountains! The freedom of wide open spaces and the rush of trying hard. My favourite activities are rock climbing, summer alpinism, skimo and running, with my happiest moments have included climbing El Capitan, summiting 37 4000ers in one summer, and I have also been fortunate to travel the world as part of the GB Ice Climbing Team.
I have a lot of adventurous projects in mind!
The Number Crunch
37 x 4000m Alpine peaks in one summer (including 22 in 6 days)
El Capitan, Triple Direct (3 days)
Lurking Fear (13 hours)
14th, Ice Climbing World Cup, Saas-Fee
Cuillin Ridge, winter traverse in a day
4 ridges of Ben Nevis in a day.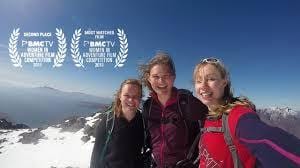 What is Adventure?
What is "Adventure"? In this cheerful short film, Anna explores this question by enlisting the help of some other adventure loving girls. Set mostly in the mountains and beaches of the Scottish Highlands.
Entries from the Mountain Journal