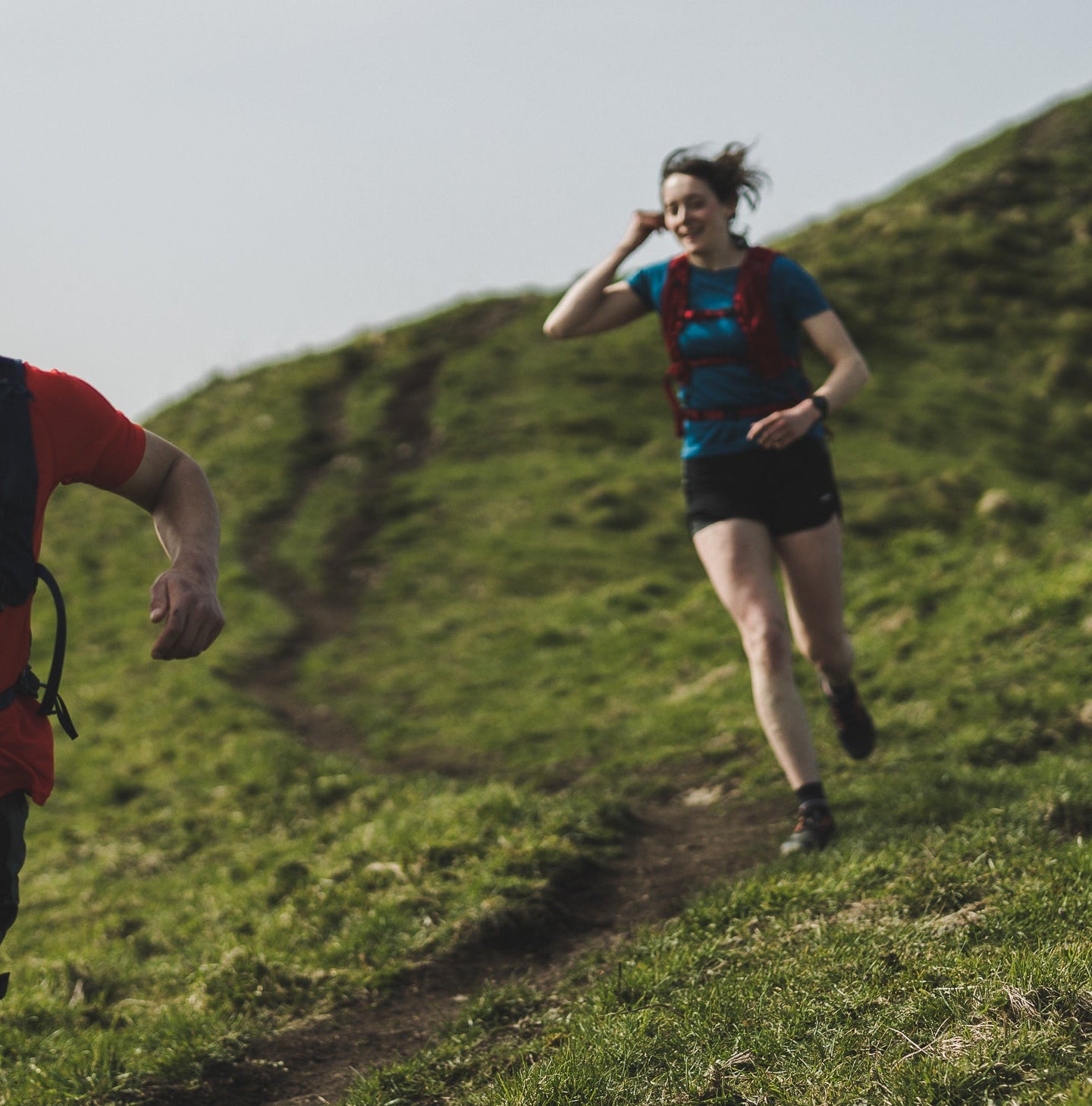 Trail Running Essential Kit List
The beauty of running is in its simplicity – lace up some shoes, grab your keys and get out the door. But packing gets a bit more complicated the longer you run and the further you get from civilisation...
It's all too easy to get yourself in a pickle. A horrible, brine-y pickle. What you need to carry will vary significantly depending on the location, length of run, weather and the time of year. Here's a list of all the essentials you might need to get you started:
Trail Running Kit List
What Type Of Shoes Do I Need For Trail Running?
Specialist trail running shoes offer significantly more grip, structure and protection than road running shoes to meet the demands of off-road terrain. We'll not get into things like heel drop and shoe stiffness here, but the main things to think about are:
Grip - What surfaces are you running on? Long, well-spaced lugs (a bit like football boot studs) provide better grip for running on loose or muddy ground. Shallower tread patterns give you better grip on groomed, dry or hardpacked trails.
Cushioning - Shoes with more cushioning are generally more comfortable for long distances or running on hard surfaces (although barefoot runners may disagree!). Low-profile shoes are usually better for off-trail and fell running, giving you a better feel for uneven ground and reducing your chances of rolling an ankle.
Protection - Trail shoes usually have a toe cap (more things to stub them on off-road!) and include some form of underfoot protection so you don't stab the soles of your feet on sharp rocks.
Support - Your shoes can shift around a lot on uneven ground. Extra midfoot support (running down from the lace holes in bands) holds your shoes in place.
What Clothing Should I Wear For Trail Running?
Your running clothing should be made from wicking, breathable and fast-drying fabrics. (And that includes your pants!) These work with your body, helping to keep you the right temperature by managing the sweat you produce.
If you're anything like us, you'll have checked three different weather forecasts and stuck your head out the window ten times before deciding what to wear for the day. Carrying multiple thin layers allows you to adapt to changing conditions and terrain better.
If you're running for a long time, in remote areas, or in difficult conditions, it's sensible to carry one more layer than you think you'll need. Fell Running Association Minimum Race Kit always includes "waterproof whole body cover (with a hood and taped seams), a hat and gloves" for safety reasons. You probably don't need to carry all that for a summer run around your local woods, but it can be essential if you're running in the mountains or across exposed moorland where the weather can change quickly.
The basics
Moisture wicking base layers (tops, shorts, tights and underwear) pull sweat away from your skin to evaporate. This cools you down when you overheat and stops you from getting clammy and cold. These can be made from synthetic fibres (like polyester) or merino wool. Synthetic fabrics are faster drying and better at wicking. Merino wool is naturally breathable and better at keeping you warm when damp. Both can be used all year, but we tend to opt for synthetics in summer and merino in winter.
Back-up warmth
Windproof jackets and gilets weigh next to nothing, pack small and drastically reduce the effects of wind chill – you'll never regret packing one. A thin hat, neck warmer and gloves are easy to carry and will add a surprising amount of warmth when the temperature drops.
Cooler weather
You can wear a thicker base layer or add a lightweight fleece jacket in cold conditions. These will add insulation but still let sweat and excess heat pass through easily.
Waterproofs
Running produces a lot of sweat so dedicated running waterproofs usually provide much higher levels of breathability than other waterproofs. They also use lighter, more flexible fabrics which are easier to pack and move in.
Temperature extremes
Getting your clothing wrong on a long, remote trail run in the depths of winter isn't really an option! We'll normally pack a lightweight insulated jacket (synthetic) as well as our waterproofs on very cold days. Merino socks are a game changer for cold toes!
In summer, a running cap will protect you from the heat and the harmful UV rays beating down. Wrap-around running sunglasses don't bounce about as you move and Cat 3 lenses guard your eyes against UV.
How To Carry Your Gear When Trail Running
Running vest packs and waist belts offer better stability for running than walking packs. They're designed to carry water, snacks and spare layers without bouncing or compromising your balance. You can find anything from minimalist race packs to multiday fastpacking packs these days. But around 5-10 litres should be big enough for a long trail run, even in winter.
Running Vests
Running vests are flatter than walking packs, sit higher up your back and conform to your body with a secure fit. They also include pockets on the shoulder straps so you can balance the weight more evenly across your body, and access water and snacks on the move. Many include hang loops and ports for hydration bladders too.
Waist Packs
Waist packs used to be much more common before race vests became widespread, but you still see gnarly old fell runners crossing the hills with them, bleached white after decades of running! Waist packs usually have a smaller capacity for shorter/warmer runs and give you better access to the main pocket without having to take your pack off.
How To Carry Water On A Run And What Food To Bring
For anything longer than an hour it's a good idea to carry plenty of water and some food for energy. Anyone who's ever 'bonked' midway through a run knows the importance of carrying more than you think you'll need!
Water
Soft bottles and hydration bladders are the best way to carry water with you. These flexible water containers conform to your body without digging in and compress as you drink, stopping the water from sloshing with every stride.
Hydration Bladders offer a larger capacity and are easier to drink from on the move. But they do make it harder to see how much you've drunk and how much you've got left.
It's worth adding an electrolyte tab or sachet to your bottles for long/hot runs. These aid hydration by helping your body to absorb water more easily.
Nutrition
Energy gels are the quickest way to replace lost glycogen (the fuel your muscles use for energy). Their basic carbohydrates are absorbed rapidly, but they don't always agree with your… errr… digestive system. They're good for high intensity runs and races though! Snack bars, chews and jelly babies are a more belly-friendly alternative.
For slow and steady long runs you might prefer to take 'real food' which is easier on your stomach over the course of the day. You'll discover your own preferences with a bit of trial and error, but we find peanut butter and jam wraps go down a treat after a couple of hours of running! Take a mix of sweet and savoury snacks so you don't get sick of one or the other.
What Safety Kit Do I Need For Trail Running?
For long runs in remote or mountainous areas you should always carry basic safety and navigation kit and know how to use it. Make sure you carry a:
Map of the area (with map case if it's not waterproof)
Safety whistle (if your pack doesn't have one)
Phone (fully charged – batteries can lose power in cold weather)
It's a good idea to consider the following as well:
Head torch
Essential in winter when the light fades rapidly, a lightweight head torch is worth carrying year-round, if only to alert attention in an emergency. Make sure it's fully charged or carry spare batteries.
First Aid Kit
You'd carry one on a day walk! You can get ready-made first aid kits for the outdoors but you might find you don't need everything inside. Our bare minimum first aid kit includes: a re-usable crepe bandage (for sprains), paracetamol, dressings/plasters, blister plasters and tick tweezers.
Survival bag
We always take a survival bag on long runs in winter or in remote/mountainous areas. For an extra 100g, it's worth the extra peace of mind (and the extra visibility in an emergency!).
Waterproof dry bags
Roll-top dry bags keep your electronics safe and your spare clothing dry for very little extra weight.
Toilet roll
When nature calls, it REALLY calls.
Smart packing means less faffing
Packing for long trail runs needn't feel like prepping for a major expedition. It's much easier to get out the house/tent/bunkhouse if your running vest is already packed with all your usual reserve layers and safety gear. Then it's just a case of filling up your water and grabbing some snacks. You can vary what's in your pack through the seasons to make sure you're only carrying what's necessary. Happy trails!