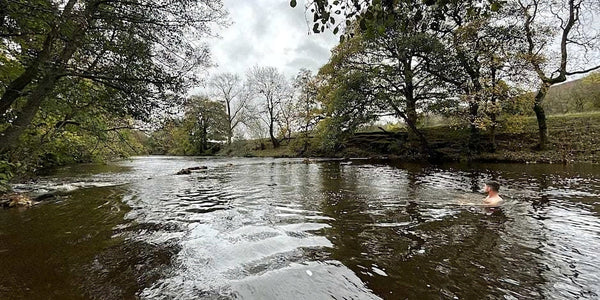 Social wild swim every Thursday morning in the river Derwent
Join some of the staff from the Alpkit Hathersage store every Thursday, starting 10th November, for a social swim in the river Derwent.
The plan is to meet at 8.15am at the layby just out of Hathersage on the A6187 (What3Words: achieving.firework.runways) and head down to the river, the spot we are swimming in is a 5 minute walk from the layby so you can meet us in the layby, or at the river at around 8:30am. If you need any further directions don't hesitate to contact the store.
As we are coming into winter, and some of you may be new to it, we're planning for this to be more of a dip than a long swim. We advise you bring your own wetsuit if you can swim more comfortably, but some will just be in a costume/trunks. We'd recommend that you wear swimming gloves and socks, as your extremities get cold quick and it can be uncomfortable.
The river is rocky-bottomed and slightly silty so you may also prefer swim shoes/trainers too, and is no more than 3 feet deep (we won't go in if it is deeper/stronger). Apart from that, beyond the obvious of a towel, we'd recommend you bring a woolly hat, gloves and something thick and warm to wear after your swim. Baselayers and insulated jackets are good.
We'll also have free coffee/tea and cake available back at the store post-swim too, where we can warm up and chat about all things swimming. We can answer any questions you may not have had chance to ask down at the river.
We do like to strongly reiterate this is social swim, we don't have any qualifications, just a love of wild swimming, and you are responsible for your own safety.
**This event is weather dependant - if we've had previous nights of heavy rain and the water levels are unsafe this event will be postponed**
Please contact the store if you have any other questions;
hathersage@alpkit.com
01433 730930
Book your place for this free event through Eventbrite below