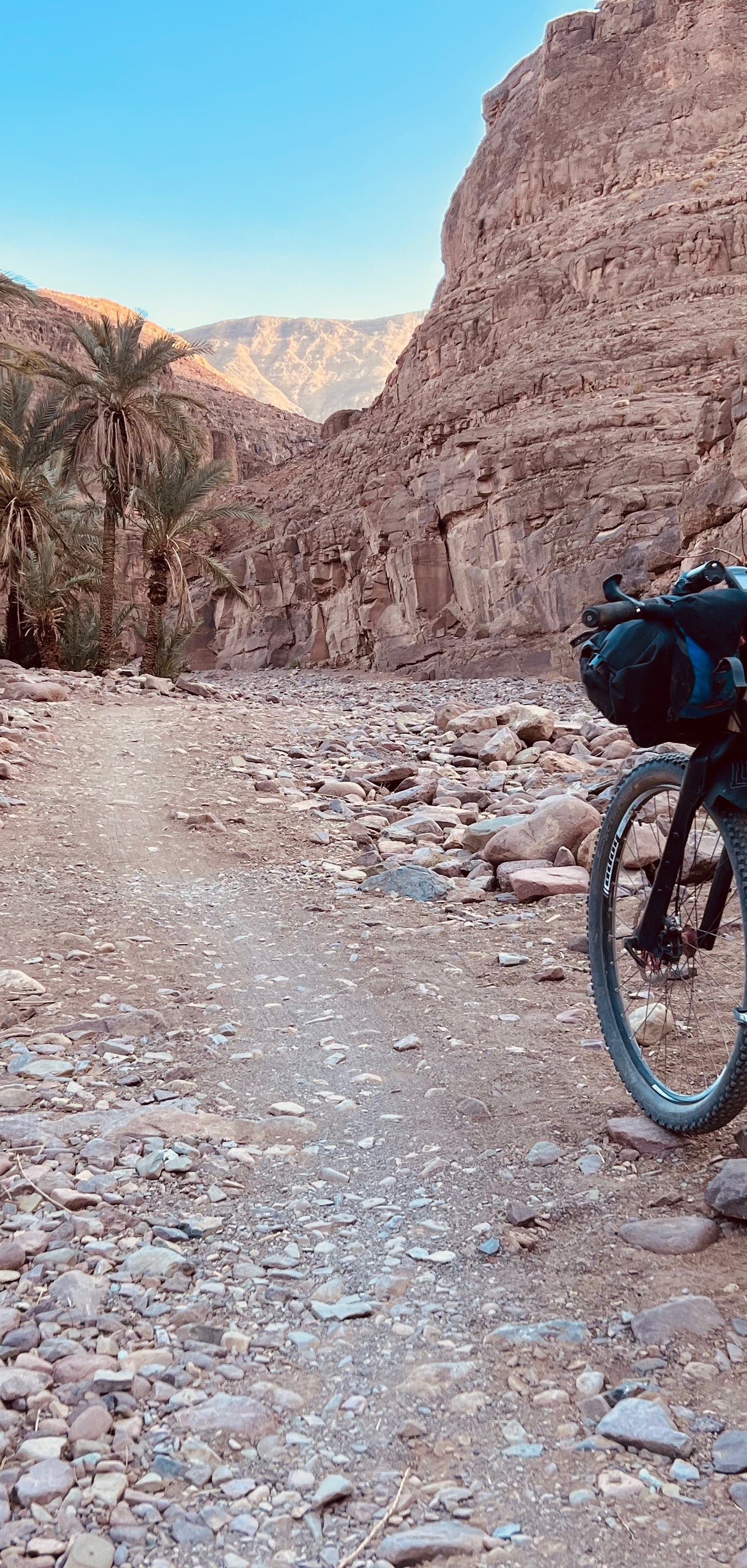 Atlas Mountain Race bikepacking rig and kit list
Sonder rider Stu Taylor recently completed the Atlas Mountain Race in Morocco. A 1366km self-supported bikepacking race with 22000m of climbing throughout the route, it's no ride in the park. In this video Stu reflects on the experience, and runs us through his bikepacking rig and shares his kit list for the adventure.
We have all faffed over kit choices, even if it is just an overnight bivvy - but what does it take to plan and execute a remote, multi-day, bikepacking race 1000's miles from home?
Is it faff on steroids, or is it controlled and methodical?
Multi-day epic rides are uncertain. Things can go wrong and do go wrong. Stu has learned this the hard way. In 2020 he pulled out due to 8 broken spokes. In 2023 he faced a new challenge, solved it with some creative in-the-box thinking and carried on to finish. Watch the video to find out about that- let's geek out on the kit list.
Bike
The titanium Sonder Broken Road was the ideal weapon of choice for Stu. Made from aeronautical grade titanium, chosen for its durability and compliance, it isolates the rider from shock and fatigue on long rides like the Atlas Mountain Race.
The long wheelbase combines precision and control, with the flexibility to adjust riding position easily and maximise in frame storage potential.
Designed with a relaxed head angle, the frame creates the perfect set up for eating up the miles over any surface, and strikes the balance Stu needed between comfortable uphill grinding and hair-raising downhill whooping.
Who says multi-day rides need to be boring?
Weight was kept low with carbon forks and a Jones loop bar for extra cushioning on the front end. The multiple grip positions relieved wrist pains and the loop offered options for luggage attachment points, freeing up the bars for hands.
The inner bar ends were a new addition to Stu's set up and offered yet more hand positions to relieve strain and provide torque on the climbs.
29" is Stu's wheelset of choice, and a common spec that would make it more likely he could find spares if needed. Fast rolling and tubeless, it ate up the 150 - 200 km / day with the SRAM Eagle 12 speed drive train and 30t front ring providing the optimum selection of gears for the varied terrain.
Bike luggage
Racing, self-supported and alone in mountain terrain Stu needed to be sure his kit stayed clean and dry. He opted for the Alpkit Deluge range of waterproof bike luggage. Admittedly heavier than our UK made luggage the welded seams and water resistant zips gave Stu the extra reassurance he needed.
His bikepacking rig was built around a now classic distribution of luggage zones around his bike:
Handlebar bag
This contained Stu's sleep system. The form factor of the roll top dry bag is perfect for the shape of a sleeping mat, sleeping bag and bivvy. The advantage of having it all in one bag is that it all comes off in one go at the end of the day. Everything is in one place, self-contained and oh so simple.
Stem Cells
On-the-go accessibility for items Stu needed quick access to - sunglasses, suncream, snacks - anything he needed for the challenges of the specific day. With one Stem Cell either side of the stem Stu optimised his storage without effecting balance or restricting movement of his knees when climbing.
Fuel Pod
An additional easy access Top Tube bag for phone, food etc sitting discretely on top of the top tube. Enough said.
Frame Bag
Sitting within the frame triangle a waterproof frame bag will maximise the storage potential of any bike. With its adventure bike geometry the Broken Road swallows kit and keeps the centre of gravity low for better bike handling. Stu was carrying water in a hydration pack so had the full frame triangle for the extras that he didn't really need to access quickly.
Saddle Bag
Tucked under the saddle were Stu's spare clothes, warm gloves. Kit that is lightweight, compressible and that he didn't need to access frequently. Of all the types of bike luggage the saddle bag is the one where its balance is most affected by tweaks to its setup. Once you have the perfect set up, you don't want to be taking things in and out and affecting its balance.
Clothing
On an epic ride like this, choice of clothing is as important as what you ride. Get it right and you will have the confidence to keep riding through whatever conditions you encounter.
Stu epitomises our approach to layering. The bedrock underpinning his system was the merino wool base layer. This is really one of those always on garments. On top of this Stu wore a Rhythm cycling jersey and Morphosis vest. This gave him great wind protection without sacrificing breathability.
Stu's Heiko Primaloft synthetic jacket was a surprise winner. Packed to stay warm during the night if the temperatures plummeted, Stu found himself wearing it more than expected.
The Gravitas waterproof was a no brainer - weighing no more than a bag of peanuts and packable into a Stem Cell, Stu wore it over everything on the day it rained.
Thanks to Stu's layering approach he could adapt to the changeable conditions and keep on riding.
Camping
No one can ride 7 days straight, and credit card bike touring isn't going to get you very far in the Anti-Atlas Mountains. Bivvy (or camping) gear can make or break a multi-day trip. As one of the heaviest category of items on your bike you are going to want to pair it down as much as possible. A lighter bike is a funner bike to ride and a more bearable bike to hike-a-bike.
But skimping here might mean that you don't get the rest and recuperation you need to keep going over several days.
Stu went with the Elan hooped bivvy, CloudBase sleeping mat and PipeDream 400 goose down sleeping bag.
This was a compact, and discrete set up which gave him the option to catch his zzz's just about anywhere along the route.
Compared to other sleeping mats the CloudBase requires minimal puff to inflate, not to be underrated at the end of a big day.
Finally if there was ever a classic sleeping bag for -5C conditions, it has to be the PipeDream 400! With a small pack size, low weight and now with responsibly sourced hydrophobic down, it is better than it ever has been.
Electronics
Our devices are playing an increasingly common part in our everyday adventures. They have many advantages, especially around safety but the one thing you cannot get around is that they need power. I was interested to see Stu didn't go with a Juice dynamo hub for on-the-go charging. He found that a power pack, along with AA lithium batteries provided the solution he needed for keeping his phone, Garmin Etrex and SPOT tracker running.
Repairs and accessories
How many spare spokes in enough spare spokes? - Turns out 8 is the magic number in Stu's case. Having retired from a previous attempt due to a mechanical that would have tested even MacGyver, I was keen to find out if he had changed his approach to what he carried, and where if anywhere, his thought he Achilles heal may lay.
'Never pack your fears' was Stu's response, meaning if you try and pack for every eventuality you are not going to get off the starting line.
Stu also carried a water filter and tablets during the ride for piece of mind. Sometimes it is the little things like this that are overlooked and give you the best chance of finishing.
Can you fit all of this on a bike and race?
Absolutely! Sure you could trim it down here and there - but at what cost? This is a self-supported event. When things go wrong you have to get yourself out of it.
Being under prepared or under-equipped is a common reason for scratching these events. Going fast and light can mean not finishing at all.
Admittedly Stu's is a lightweight race set up, but we think Stu struck a great balance. His kit list provides a superb template for building your own kit list for any self-supported adventure.
is this bikepacking set up really as ubiquitous as I propose? Share your setup in the feedback below.