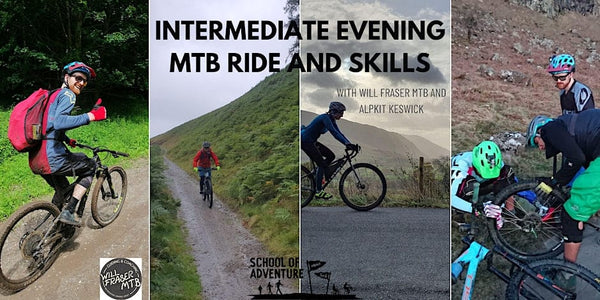 Join us at Alpkit Keswick on November 26th for a guided mountain bike ride suitable for intermediate level riders, led by Will Fraser MTB.
The ride will cover main theories of the core skills before applying them to slightly more advanced trail situations. Suitable for intermediate level riders who would be comfortable on a red graded trail centre loop.
The ride will cover body positioning and line choice on rougher and more complex trails. Including absorbing larger obstacles such as rocks, roots and drops. The route is an out-and-back that includes many of the typical features of natural Lakeland trails including stunning views across the North Lakes.
Please note that coaching rides include elements of talking, demonstrations and practicing skills so please bring appropriate extra clothing to stay warm when we are stationary for a few minutes.
Participants need to bring:
A mountain bike in good working order
A certified helmet and protective eyewear. Other protection such as knee and elbow pads are encouraged but not compulsory.
Gloves
A waterproof jacket and appropriate extra clothing for standing around or pausing on trail.
Working front (white) and rear (red) lights with enough battery to last for the duration if the ride.
Snacks and drink to keep you going through the session.
Will Fraser MTB: @willfrasermtb https://www.willfrasermtb.com/guiding
The ride will set off at 10:00am from Alpkit Keswick and will last for around 3 hours.
Ticket are available through eventbrite below