Four feet, two minds, one line. Fully custom Ti-tandem. Flats or drops; road, gravel or bloody great rocks. Make your dream tandem and ride where the trail takes you.
Sonder Cahoot
Four feet, two minds, one line. Fully custom Ti-tandem. Flats or drops; road, gravel or bloody great rocks. Make your dream tandem and ride where the trail takes you.
The Sonder Concierge Service: Your Bike, Your Way
For many, owning a custom frame is the ultimate dream; geometry, feel and function combined with only you in mind and details matching exactly the journeys you have planned. A bike that makes you proudly say 'that's my bike'.
With years of experience designing award-winning bikes, Neil and the team at Sonder can turn the dream of owning a custom bike into a reality. The right head angle, the perfect top tube length. Shorter stays or an eccentric bottom bracket? As radical as you like.
Whether your dream is a long-distance tourer that soothes your aches and pains or the perfect off-road explorer, we'll take it from that initial spark in your head all the way through to the finished article.
We'll chat through your specifications and keep you updated at every step of the way; Meticulously sketched here in the UK, hand-built by specialist titanium-workers and finally assembled at Alpkit Campus in Nottingham.
Share the joys of riding together no matter the road you travel.
Cycling is not a solo sport and the rhythm of tandem riding brings out a broad grin wherever you go. Tackle steep singletrack, flow down downhills and ride fully loaded on tarmac. Two minds, one thought, the togetherness of riding together with all you need for days and nights in the wild.
A capable bespoke hand made tandem mountain bike designed for your size, geometry and specification. Made from aeronautical grade titanium and with a 10 year guarantee.
Custom built bespoke Cahoot frames from £2,999; complete bikes from £3,999.
Cahoot, to share equally; become partners
A tandem lets two riders of different strengths and ability ride together and share in the joy of riding.
Tandem mountain bikes are fast and capable on road, off-road. Designed with the Tour Divide in mind, long trips or a LEJOG is well within its capability. You can ride fast on tarmac with the knowledge of being able to attack steep singletrack that's daunting on a regular hard tail. Made with twangy titanium with slacker head angle it has a modern geometry to last a lifetime.
Watch the Mountain Journal Short featuring Rich and Tom Siepp and their Sonder Cahoot.
Full bikes take about 3 months from initial conversations, through design, drawing and build.
Arrange a demo of Cahoot from one of our stores and test ride over a weekend for £39 a day.
Call us on 01773 417007 or email support@alpkit.com for more info
Expedition geometry
Sharing the geometry of all our expedition frames Cahoot offers performance and comfort. Fast and responsive with a lightweight titanium frame construction, suspension forks, boost wheelset and an extended head tube.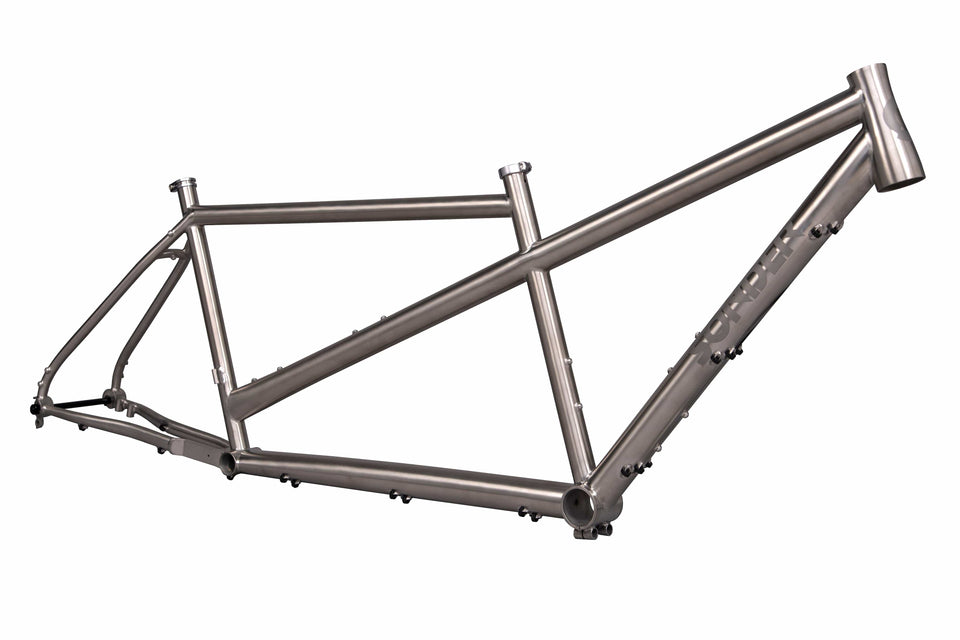 Lightness and speed combined with comfort and stability
Wide, flat aeronautical grade titanium hand welded tubing and suspension fork for enhanced shock absorbency. Built for long days in the saddle.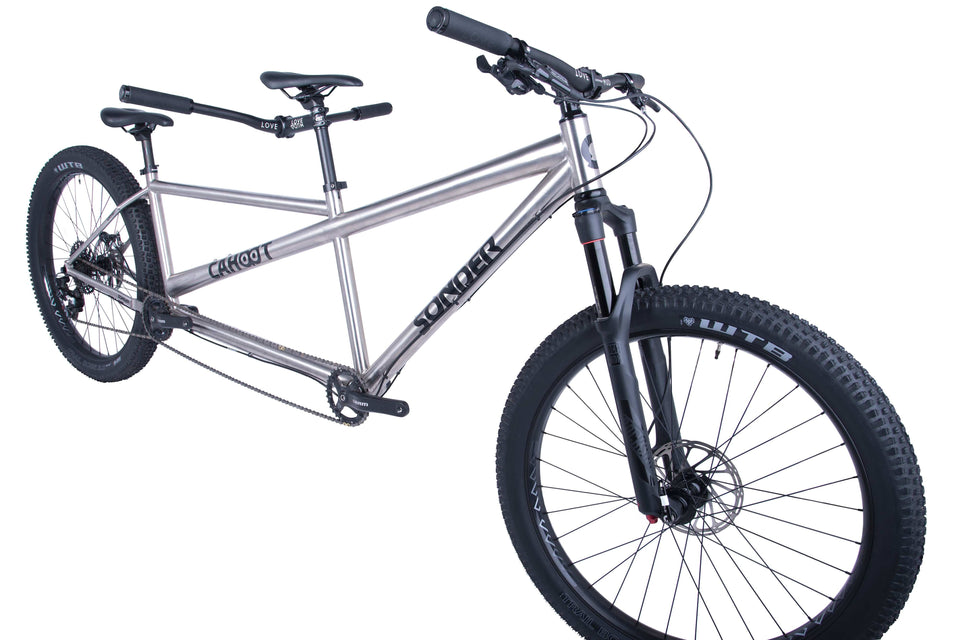 Wheel compatibility
Clearance for tyres and wheels up to 650b+ x 3.0" or 29" x 2.4"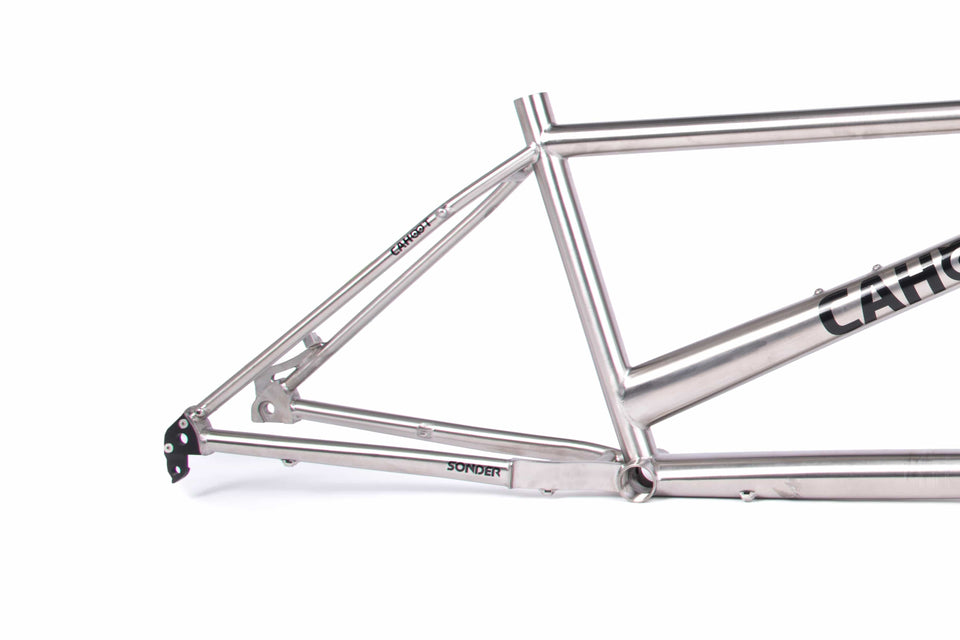 Mountain journal
Grab a brew, kick back and relax with in-depth features, tales of derring-do and Go Nice Place Do Good Things.